We looked at 121 residential cleaners serving Austin and picked the top 9.
So, if you're looking for the best home and carpet cleaners in Austin, Texas, then you've come to the right place.
Let's get started.
Home Cleaners
Ceci's Maids is a house cleaning service that takes care of your house so you can focus on the things that are important to you.
Their team members pay special attention to the details of every project to ensure customer satisfaction. With a goal to make sure that they leave your home sparkling clean, you will get high quality cleaning.
Their cleaners are always prepared for any cleaning requirements and will complete them in a timely manner with precision. With affordable prices, they are a house cleaning company you should give a try.
So, give 'em a call at 512-363-2879 or send a quick message.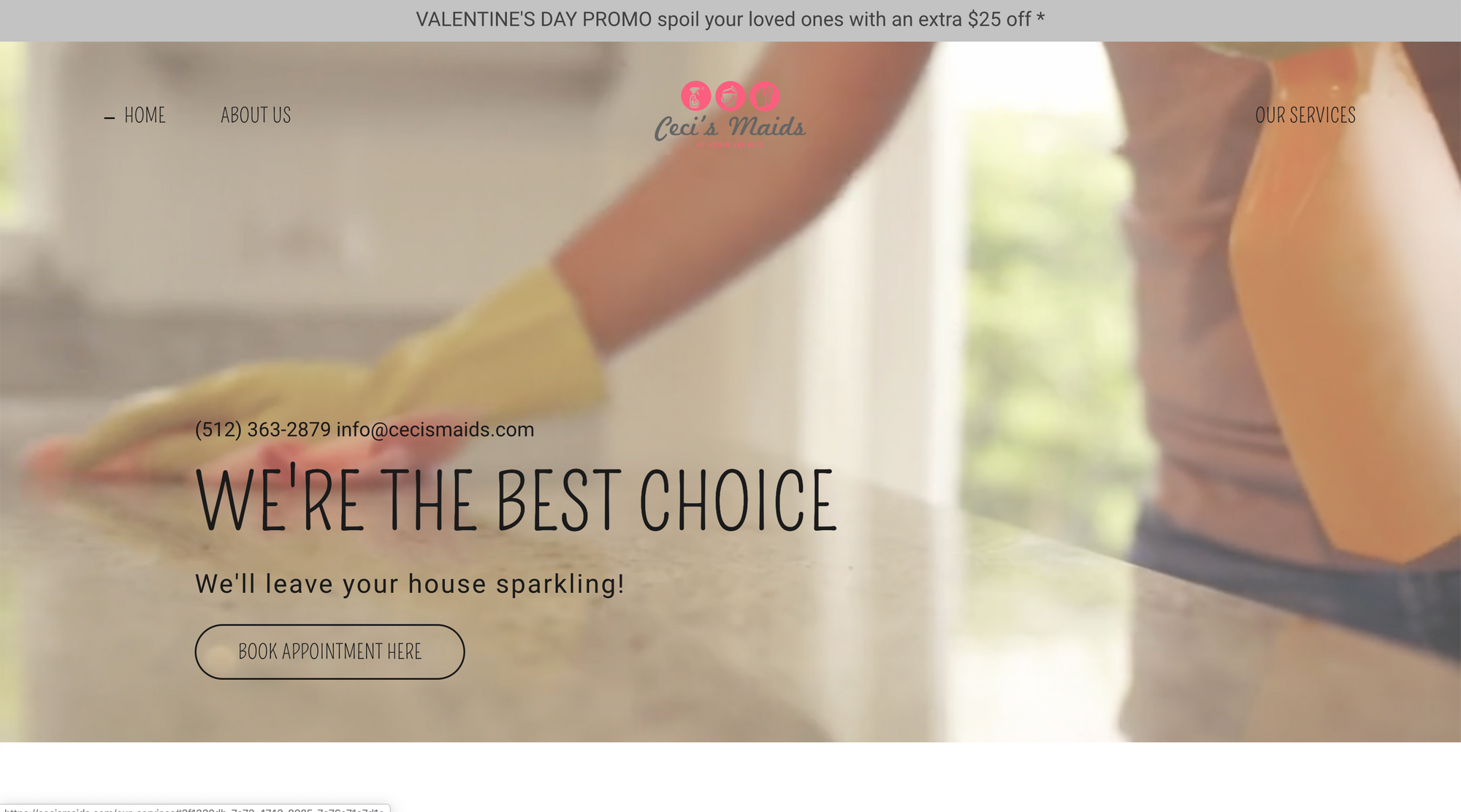 ---
Next we have Trustworthy Cleaning, a house cleaning service that removes odors and germs from your home which reduce allergies.
Their mission is to make your home clean and spotless. This mission leads to better health for you and your loved ones. Whether it's your house or apartment, they will make sure you get the best results from their services.
The benefits of having your home cleaned weekly is that the life of your furniture will extend. Instead of replacing your carpets due to mold, have it cleaned weekly.
Whether it is a bathroom, laundry room, or kitchen, they will clean very precisely. So, call 512-350-9727 or fill out their form to get in touch.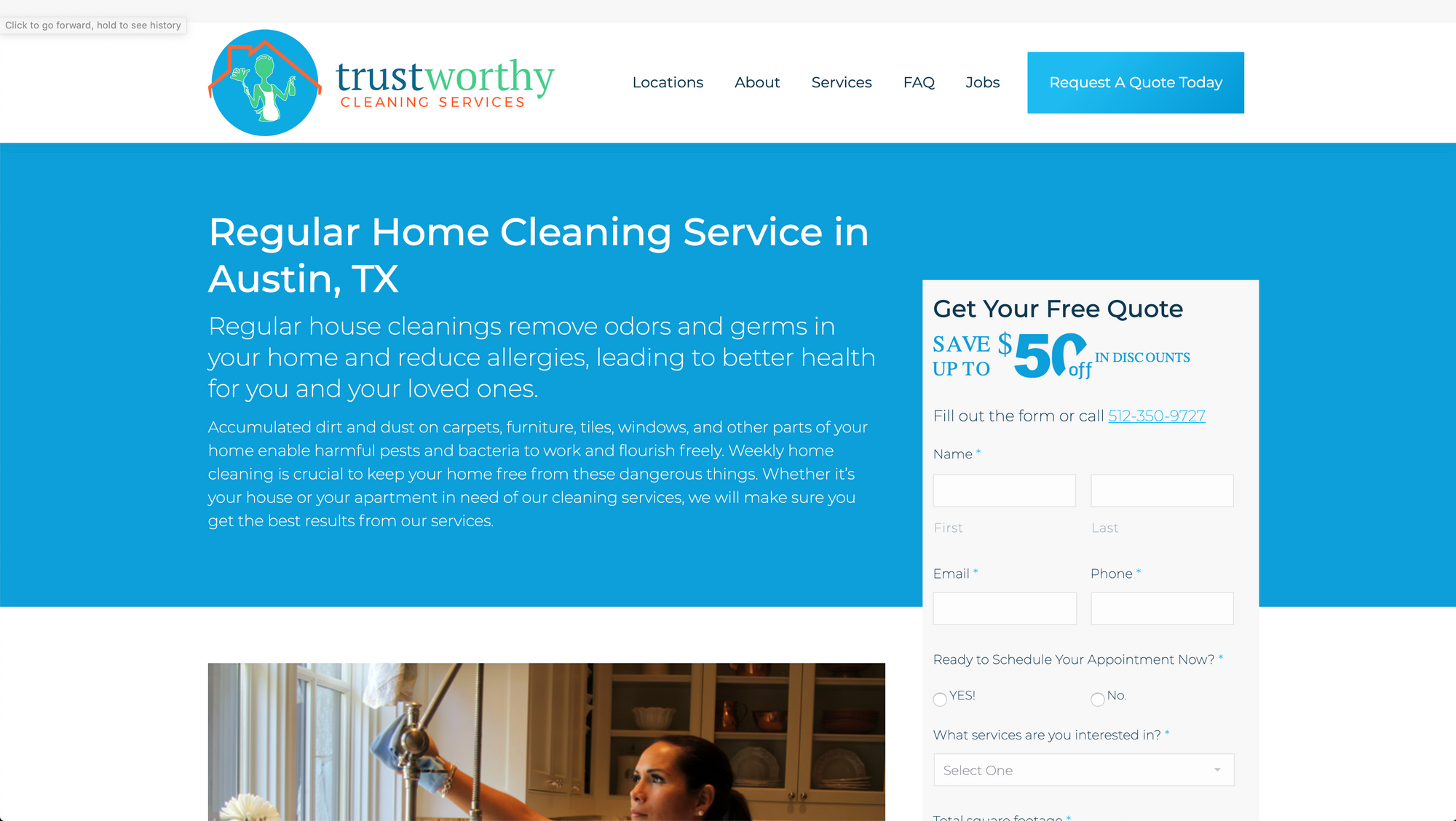 ---
Austin's Maid Services is next on the list, and is a locally-owned and operated cleaning service.
Being insured, highly rated, and trusted by many satisfied customers, they offer professional maid services at affordable rates. With 269 google reviews with 4.8 stars, customers love their cleaning, and so will you.
All of their maids are screened, background checked, and friendly. They are trained to follow a step-by-step cleaning process to ensure you have a clean house.
Everything they can clean is listed below:
Cobweb Ceilings & Dust Top of Door Frames
Dust Vents
Dust Fans & Light Fixtures
Dust Blinds
Dust and Clean Window Sills & Latches
Dust Baseboards
Dust Under Furniture on Tile and Hardwood Flooring
Dust All Wall Hangings
Dust & Spot Clean Doors
Dust & Polish All Furniture
Sofas
Lamps & Lamp Shades
Headboards/Bed Frames
Night Stands
Tables & Chairs
Dressers
TV & Stand
Shelves & Bookcases
Clean Mirrors
Clean Light Switches
Tidy Up Piles
Sweep
Vacuum
Mop
BATHROOMS
Dust & Sweep Out/Vacuum First
Scrub/Clean & Dry
Toilet: top to bottom, base, surround corners, behind
Shower/Tub & Tile
Sinks & Counters
Mirrors
Exterior Cabinets
Polish Fixtures: All Handles/Faucets & Towel Holders
KITCHEN
Dust Top of Fridge
Clean Interior and Exterior of Microwave
Clean Exterior Cabinets
Clean and Polish all Major & Small Appliances on Counters
Wipe Down Containers/Holders
Clean Counters – Behind & Under Everything
Polish Stone Counters with Furniture Polish & Micro Fiber Cloth
Use Bleach Cleaner in Sink to Remove Stains from Drains & Porcelain
Polish Stainless Steel
Windex Glass on Ovens & Microwaves
Cobweb Under Cabinets
LAUNDRY ROOM
Dust around washer & dryer and clean exterior
BEDROOMS
Make Beds
Dusts & Polish Furniture
Dust Under Bed
So, to get in touch, call them at 512-582-2340 or send them a quick message.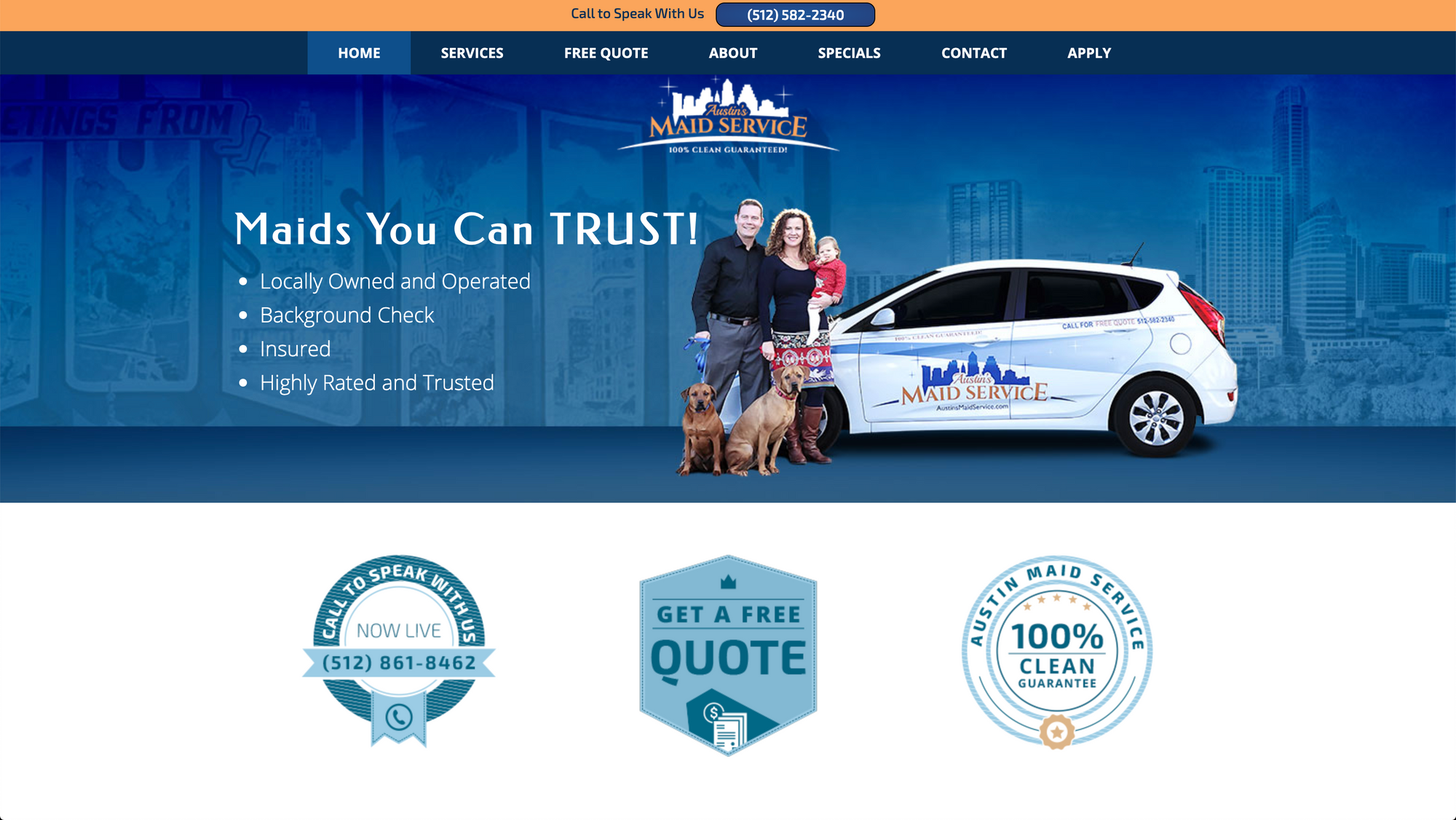 ---
Next is Molly Maid, a cleaning service that has been in the industry for over 20 years.
Their home cleaning services are customized to meet your needs. Whether it's your living room, or bedroom, their maids clean everything professionally every visit.
Their 24-hour clean warranty means that if you're not satisfied with any area they cleaned, you can call them within 24 hours and they will come back to clean it again, at no additional cost.
Having a variety of cleaning services, they can help you in no time. Whether you need regular, occasional, move out, or even special event cleaning, they will gladly help.
So, to get in touch, call 512-872-2448 today.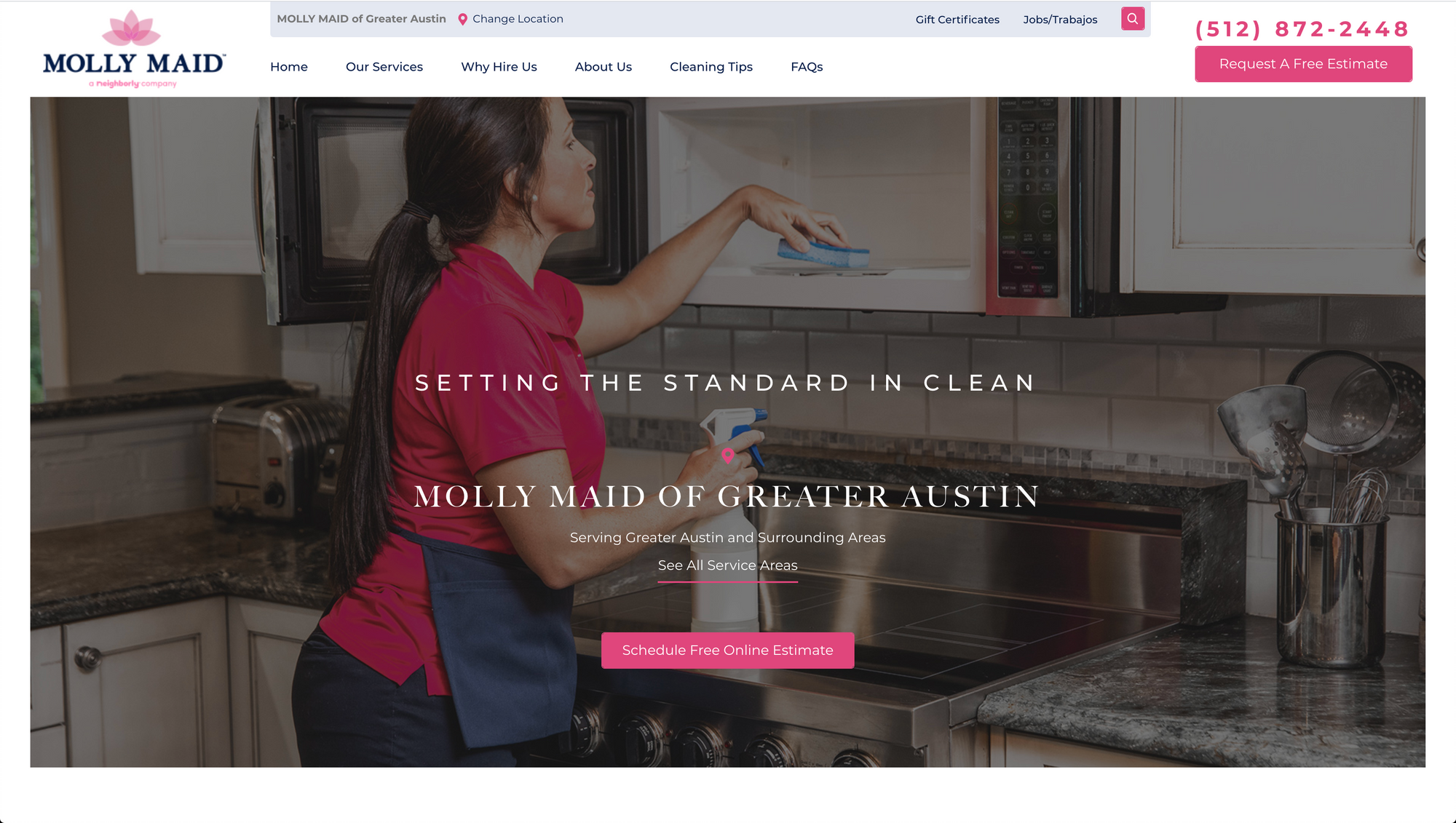 ---
Last, but not definitely least, Susy Q Cleaning. They are a green house cleaning service based in the Austin metro area.
Their services are green, move in & out, commercial, and house cleaning. With a goal of meeting your needs by offering high quality cleaning services, they are a great company to work with.
Their cleaners come prepared with green cleaning supplies. However, they are very flexible and will gladly use your preferred cleaning products if you wish.
Any frequent questions you might have are shown below: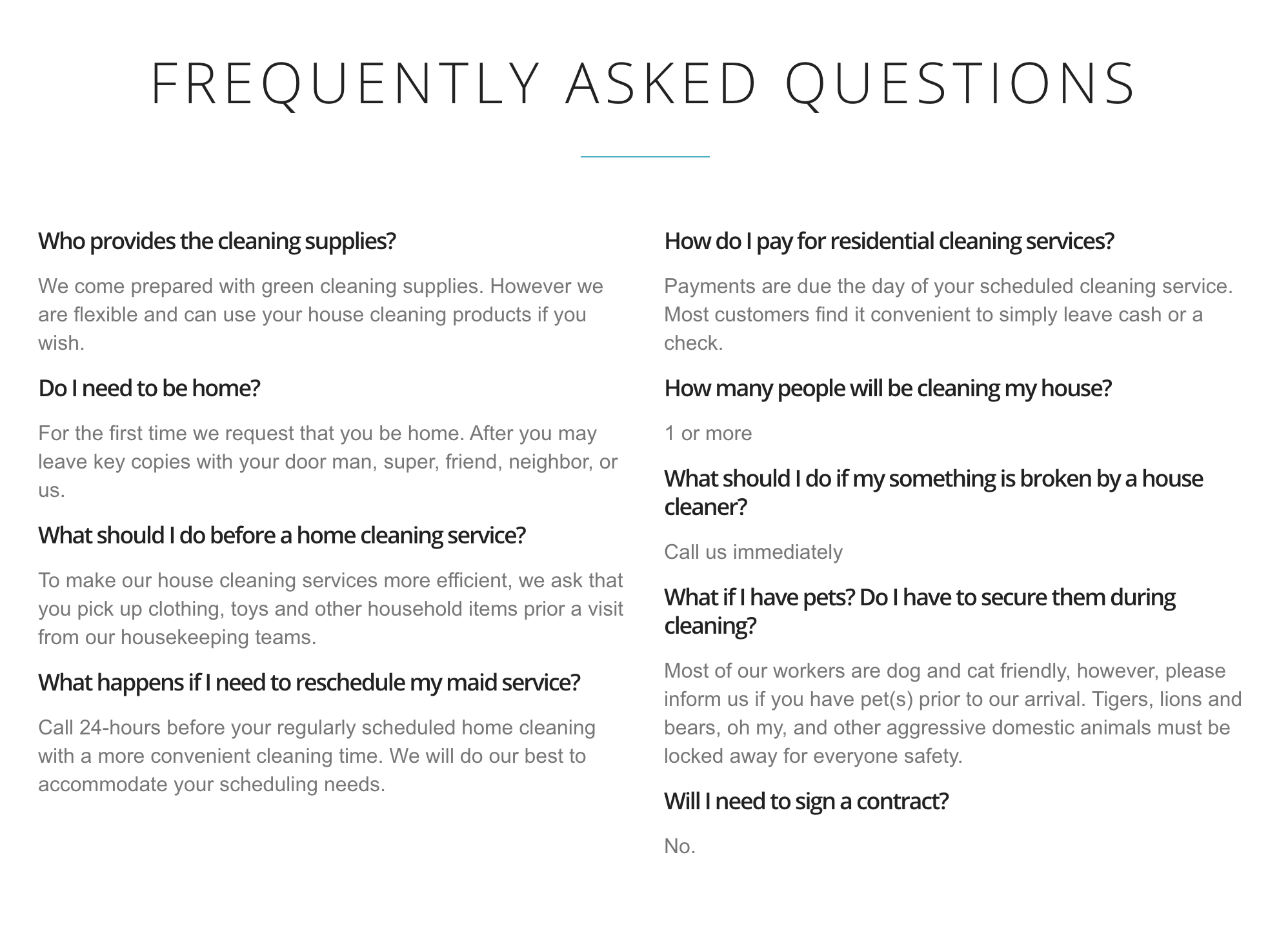 To get in touch or learn more, call them at 512-640-6264 and they'll help right away.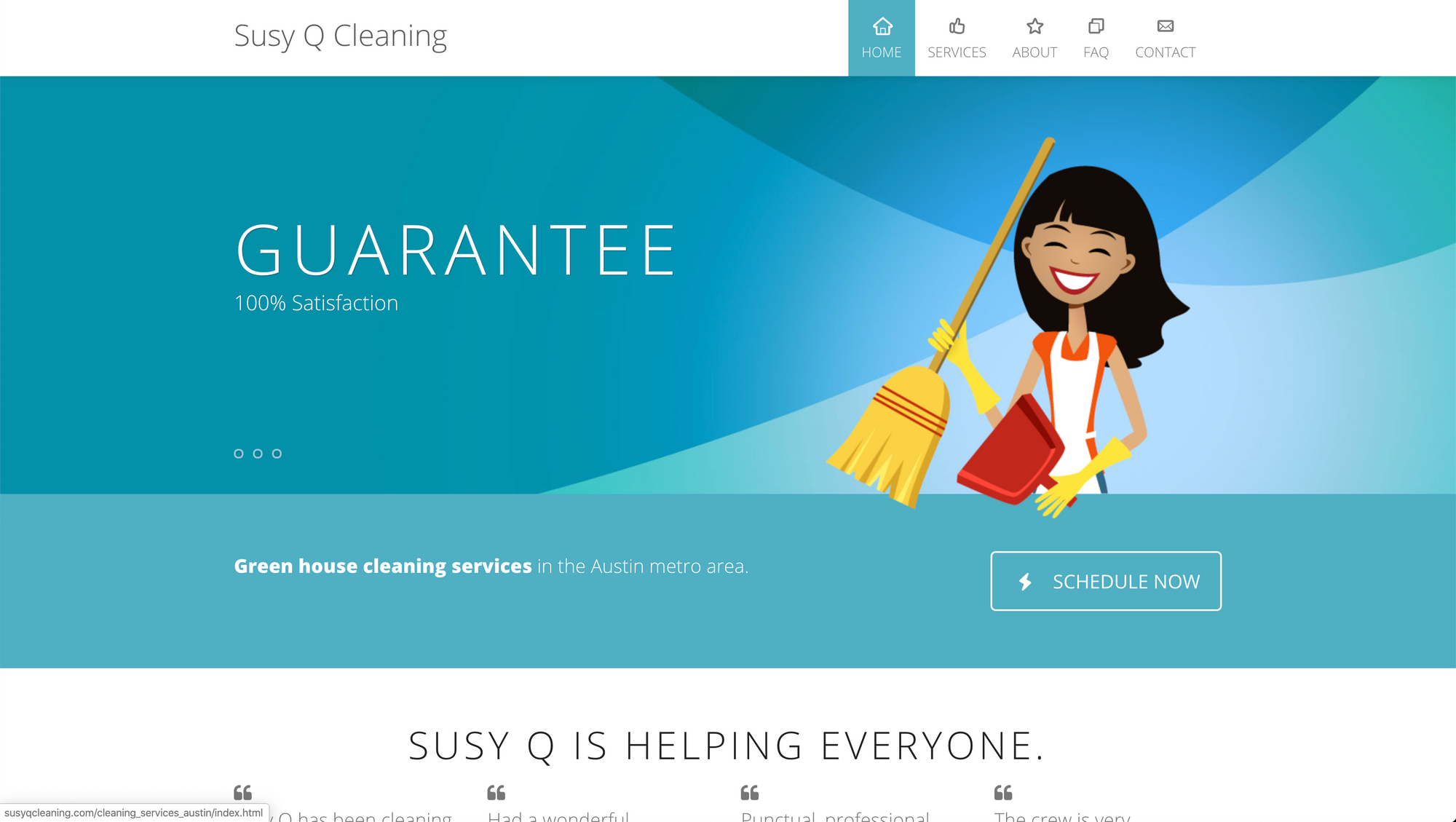 ---
Carpet Cleaners
Let's start with Peace Frog Cleaning, a locally-owned carpet and rug cleaning company.
They are dedicated to making your customer service experience fantastic. Being one of the highest rated carpet and rug cleaning companies in Austin, they provide remarkable cleaning services.
Their main services are carpet, tile, furniture, rug, hardwood, and commercial cleaning. Other services include pressure washing, dryer vent cleaning, and pet stain and odor removal.
Here are some before and after photos: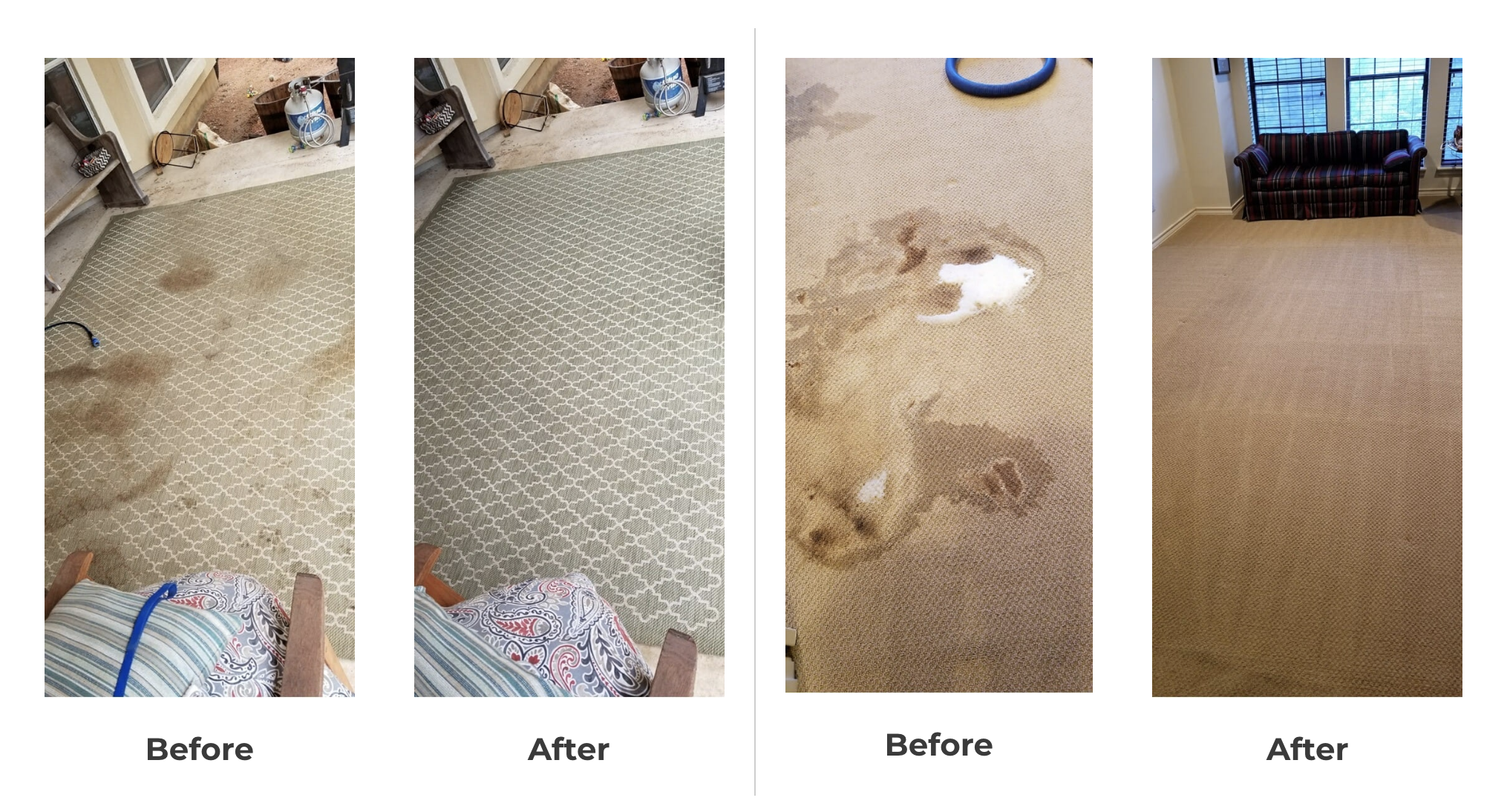 So, to get started, call 512-259-6606 or 512-547-7052. You can also send a quick message to them, and they'll be happy to help.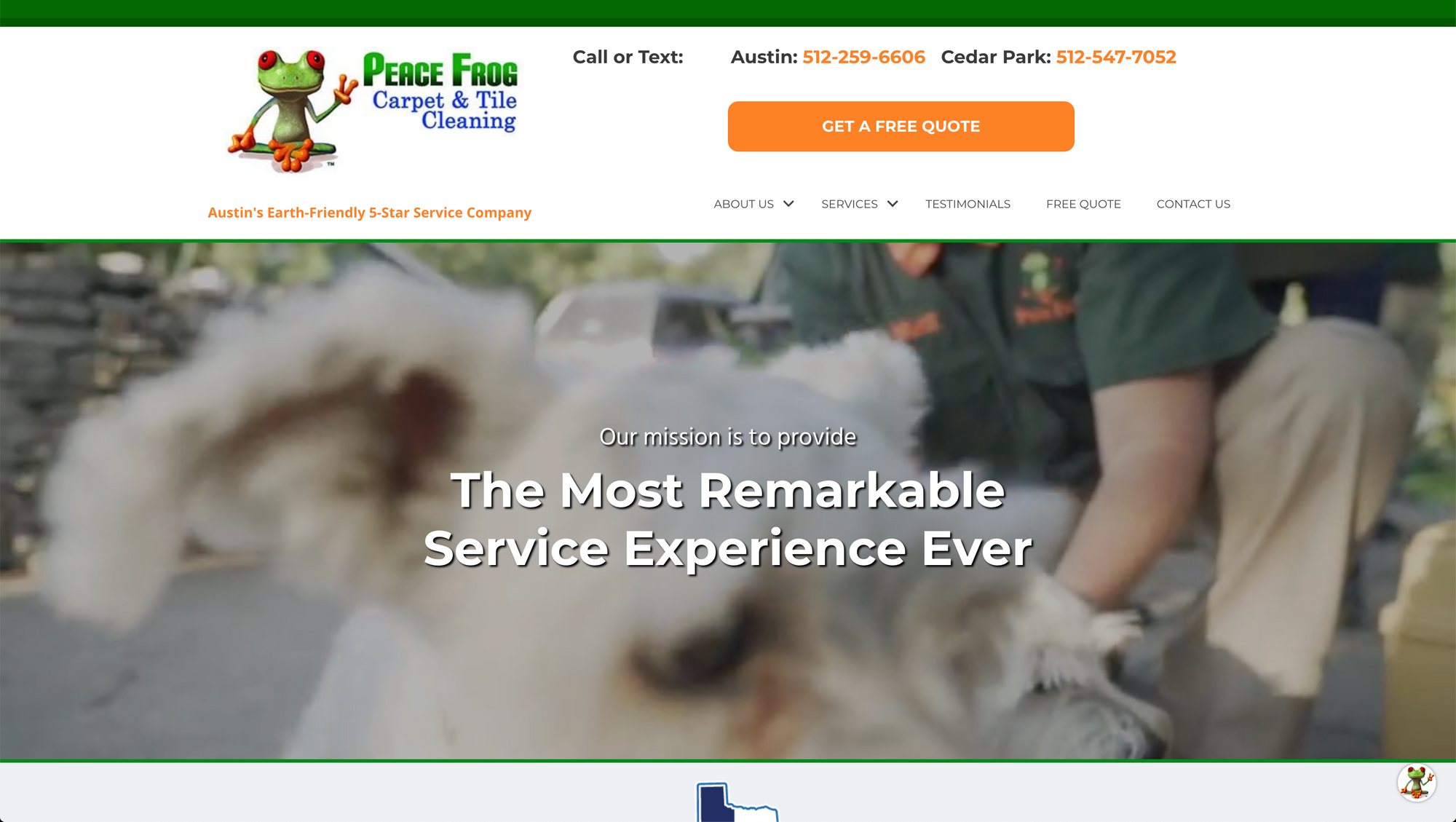 ---
Next is The Magical Clean, a carpet cleaning service for both commercial and residential customers.
For over 10 years, they have been providing quality carpet cleaning services for people in Austin.
Their services include carpet cleaning, water extraction/restoration, tile & grout cleaning, and dryer vent cleaning.
So, to get started, call them at 512-999-2940 or send 'em a quick message.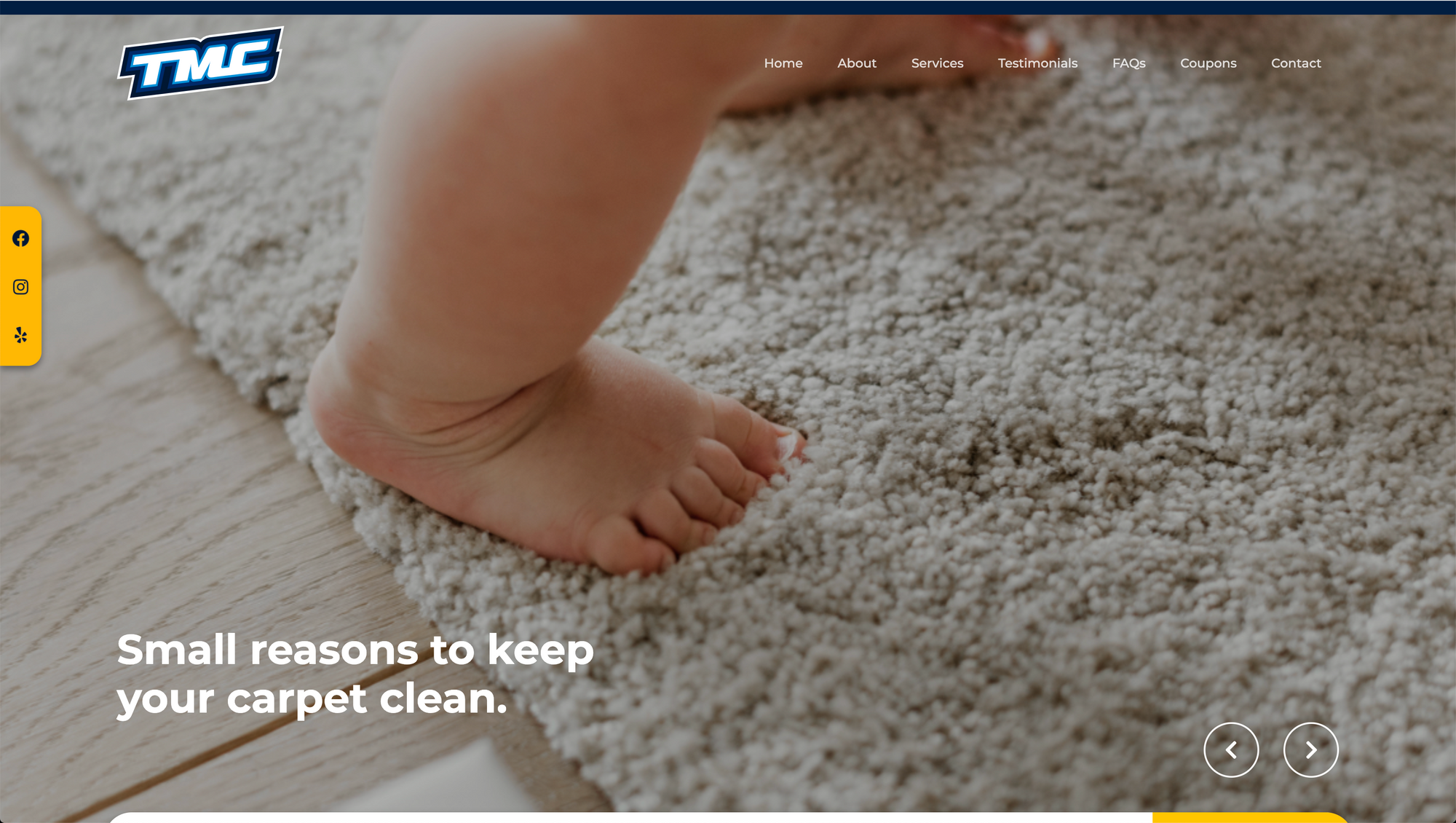 ---
Zero Rez Austin is a carpet, tile, air duct, rug, furniture, granite, mattress, shower, and stainless steel cleaning service.
They believe that a complete carpet clean should give you a peace of mind and let you enjoy your clean floors. Their services are designed not just to clean your carpet, but to totally revive it.
Unlike other carpet cleaning services, they Zero Rez Austin does not use soaps, detergents, or any harsh chemicals. Their cleaning process includes Powered Water which is safe for your kids and pets.
When you decide to hire them, it is as easy as one, two, three.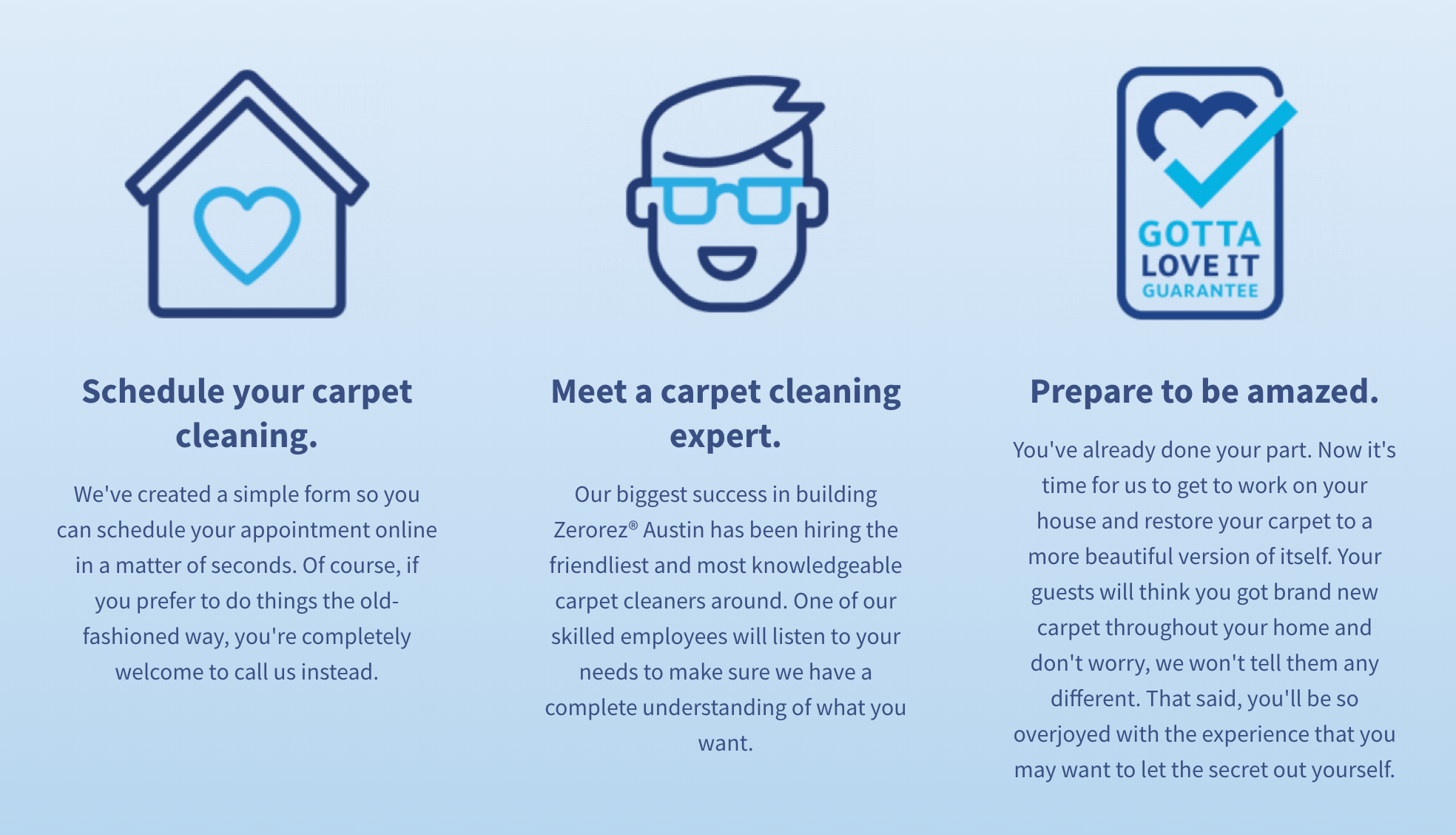 So, give 'em a call at 512-290-9990 and you will be amazed by their customer service.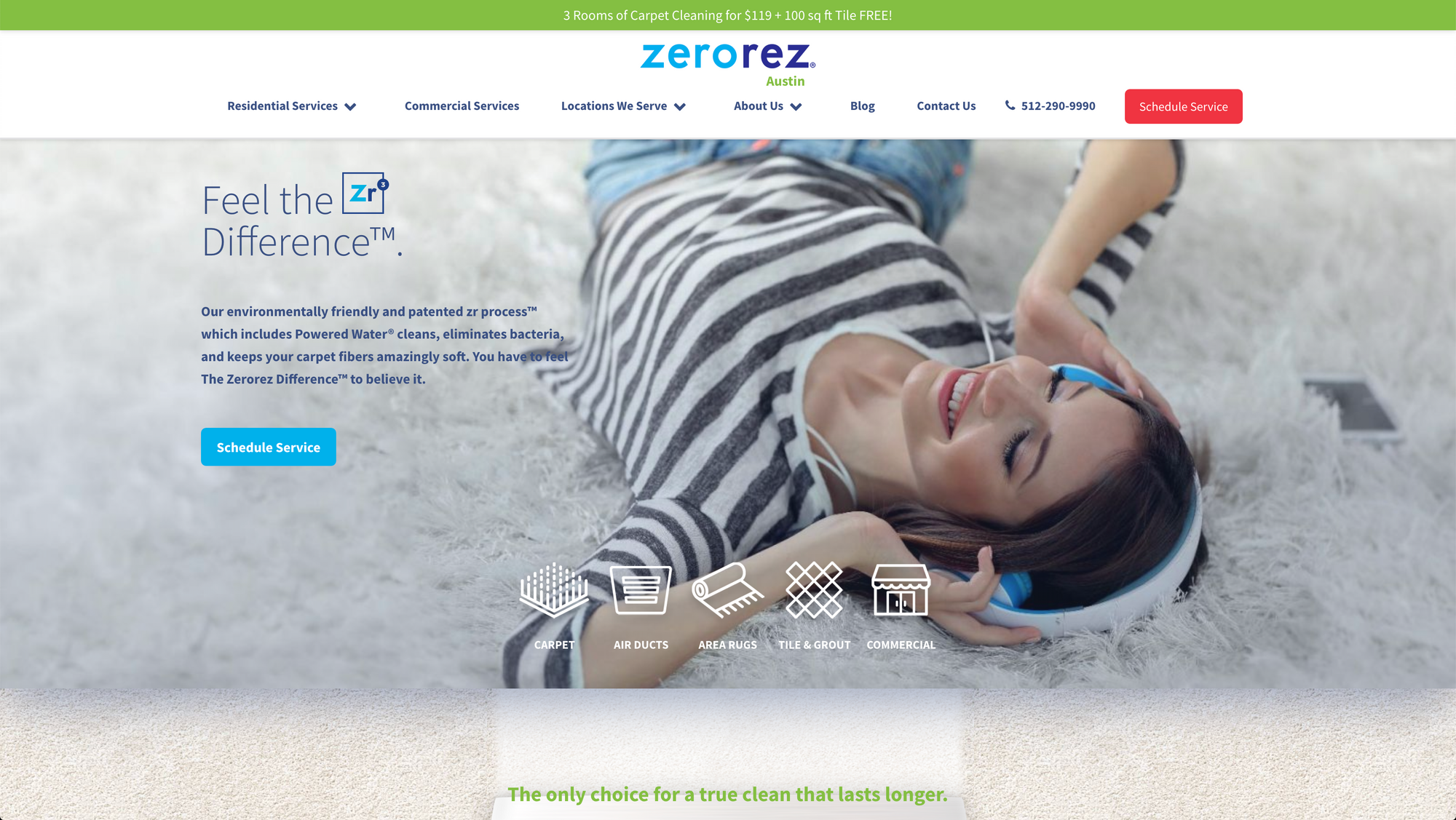 ---
Finally, we have Chem Dry, a superior carpet and furniture cleaning service.
They proudly service their customers by maintaining clean, healthy, and happy homes. Their carpet cleaning service will leave your home clean, safe, and healthy.
Their professionally-trained technicians and cleaners are dedicated to providing you with an outstanding cleaning experience.
Their cleaning services are carpet, furniture, rug, tile, stone, commercial, and wood floor cleaning. On top of those services, they do pet odor and specialty stain removal.
To get in touch and request a free quote, call them at 512-892-1116.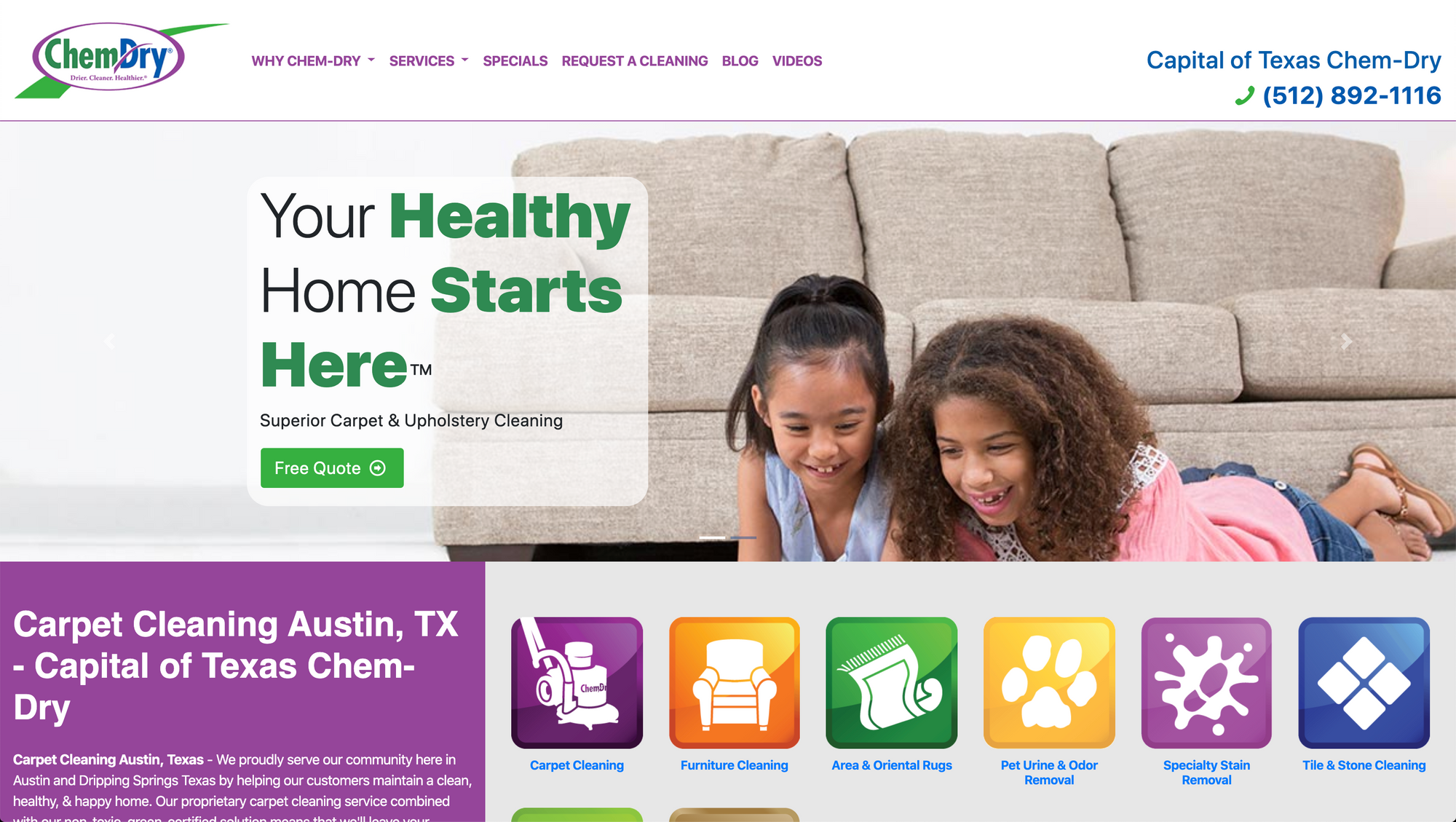 ---
Conclusion
So, who will you hire? Hint: hire 'em with Onedesk, an online platform that helps you easily hire the best commercial cleaners near you.
Share this article with your friends so they know which cleaners are the best fit for them, give them a hand.